Early Bird Promo - Sun Peaks
Promotions valid only with a minimum 3-day booking.
Book your lift tickets or equipment rentals by August 31, 2021 and receive an additional 10% Off
*Offer expires August, 31/2021 - One special per booking
Echo Landing - Sun Peaks
Description
Call us about availability 1.888.763.6373
Brand new townhouse in prime location! Sun Peaks' newest development - Echo Landing - with excellent ski-in/ski-out access via the new Orient chairlift! his is a premier townhouse with top of the line features and amenities!
Units
11 Results
Resort/Condos Ski Chalets
Echo Landing #02 - 3 Bdrm HT - Sun Peaks
Brand new townhouse in prime location! Sun Peaks' newest development - Echo Landing - with excellent ski-in/ski-out access via the new Orient chairlift! his is a premier townhouse with top of the line... More Details
Room Layout: 3 Bdrm Sleeps: 10 Price/Night: $289 - $1250
Echo Landing #05 - 2 Bdrm HT - Sun Peaks
Sun Peaks Resort in the beautiful mountains of British Columbia is an unbeatable destination for your next outdoor family experience in winter or summer. Echo Landing #05 is a ground level condo and h... More Details
Room Layout: 2 Bdrm Sleeps: 7 Price/Night: $179 - $799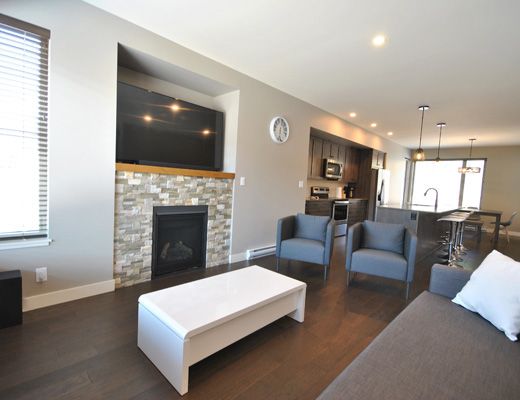 Property ID# 13835
Echo Landing #10 - 3 Bdrm HT - Sun Peaks (TM)
Echo Landing 10 is a brand new home and part of one of the newest constructions in Sun Peaks, so you may be lucky enough to be one of the very first guests! This is a sleek and modern three-bedroom, t... More Details
Room Layout: 3 Bdrm Sleeps: 10 Price/Night: $312 - $1117
Property ID# 13854
Echo Landing #11 - 3 Bdrm HT - Sun Peaks (TM)
Echo Landing 11 is a brand new home and part of one of the newest constructions in Sun Peaks, so you may be lucky enough to be one of the very first guests! This is a stylish and modern 3-bedroom, 3-b... More Details
Room Layout: 3 Bdrm Sleeps: 8 Price/Night: $312 - $1117
Echo Landing #12 - 3 Bdrm HT - Sun Peaks
Brand new townhouse in prime location! Sun Peaks' newest development - Echo Landing - with excellent ski-in/ski-out access via the new Orient chairlift! his is a premier townhouse with top of the line... More Details
Room Layout: 3 Bdrm Sleeps: 9 Price/Night: $289 - $1250
Property ID# 13853
Echo Landing #15 - 3 Bdrm HT - Sun Peaks (TM)
Echo Landing 15 is a brand new unit - so new that it's still in the process of being furnished! The property owners will be adding a queen bed in the master bedroom, a double-over-double set of bunkbe... More Details
Room Layout: 3 Bdrm Sleeps: 10 Price/Night: $242 - $992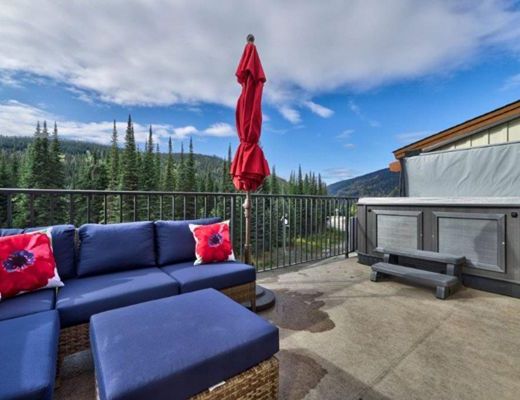 Property ID# 13938
Echo Landing #18 - 3 Bdrm HT - Sun Peaks (TM)
Echo Landing #18 is convenient to the Morrisey and the new Orient Express Chair lifts. Enjoy the nordic trails close by and a short walk to the village. This 3 bed, 2 bath retreat has high speed inter... More Details
Room Layout: 3 Bdrm Sleeps: 7 Price/Night: $312 - $1117
Echo Landing #31 - 3 Bdrm HT - Sun Peaks
Brand new townhouse in prime location! Sun Peaks' newest development - Echo Landing - with excellent ski-in/ski-out access via the new Orient chairlift! his is a premier townhouse with top of the line... More Details
Room Layout: 3 Bdrm Sleeps: 9 Price/Night: $289 - $1250
Property ID# 13940
Echo Landing #34 - 2 Bdrm HT - Sun Peaks (TM)
Echo Landing 34 is a brand new 2-bedroom/2-bathroom condo, able to sleep up to 6 people, with a private use hot tub on the balcony overlooking Mt Morrisey and Sundance Mtn. Ski-in/ski-out from Morrise... More Details
Room Layout: 2 Bdrm Sleeps: 6 Price/Night: $177 - $742
Property ID# 13939
Echo Landing #35 - 3 Bdrm HT - Sun Peaks (TM)
Echo Landing 35 is a lovely 3-bedroom, 2-bathroom townhome and part of the brand new Echo Landing construction, meaning you may get to be one of the very first guests! The large living room is open co... More Details
Room Layout: 3 Bdrm Sleeps: 8 Price/Night: $312 - $1117
Echo Landing #42 - 3 Bdrm - Sun Peaks
the street and ski down towards the Orient Chairlift and Morrissey's Chairlift. Echo Landing #42 is your home away from home with a wide-open main level layout. Relax on the comfy couches in the livi... More Details
Room Layout: 3 Bdrm Sleeps: 9 Price/Night: $289 - $1250
Quick Inquire For Available Properties