Early Bird Promo - Sun Peaks
Promotions valid only with a minimum 3-day booking.
Book your lift tickets or equipment rentals by August 31, 2021 and receive an additional 10% Off
*Offer expires August, 31/2021 - One special per booking
Snow Creek Village - Sun Peaks
Description
Call us about availability 1.888.763.6373
Warm and welcoming, Snow Creek Village ensures comfortable accommodation for your upcoming Sun Peaks ski resort vacation. With fantastic access to alpine activities and the Village center, this lovely complex offers beautifully decorated rentals for you and your family to enjoy.
The cheerful exterior of this charming complex beckons its guests inside, to discover the many wonderful details found throughout. After enjoying the majestic mountain scenery, return home to create a delicious feast in the fully-equipped kitchen or curl up fireside with a good book. Spacious in design and boasting attractive appointments and an inviting color palette, Snow Creek Village provides you with the ideal backdrop for creating lasting memories.
Units
12 Results
Resort/Condos Ski Chalets
Property ID# 13159
Snow Creek Village #6 - Studio HT - Sun Peaks (TM)
#6 is a studio on the ground floor at Snow Creek Village with a very nice private hot tub deck ideal for a quiet soak after a day enjoying Sun Peaks' slopes. With both a Murphy and a sofa bed, this su... More Details
Room Layout: Studio Sleeps: 4 Price/Night: $152 - $587
Property ID# 9619
Snow Creek Village #11B - Studio - Sun Peaks (TM)
Snow Creek Village 11b is the perfect combination of ski-in/out, affordability and village access. The suite is nicely decorated and lovingly cared for and is surprisingly large for a compact studio. ... More Details
Room Layout: Studio Sleeps: 2 Price/Night: $102 - $387
Property ID# 13161
Snow Creek Village #19 - 2 Bdrm - Sun Peaks (TM)
Snow Creek Village 19 is an ideal choice for a small family who wants to park their car upon arrival and not need to use it again until they depart. Located on the west side of the Snow Creek condos i... More Details
Room Layout: 2 Bdrm Sleeps: 5 Price/Night: $197 - $877
Snow Creek Village #20 - 2 Bdrm HT - Sun Peaks
This 2 bedroom condo is ski-in/ski-out to the main lift area and very close to the Sun Peaks village center. It is ground floor entry with 3 levels and features a full kitchen, 2 baths, 2TV/2DVD/2VCR,... More Details
Room Layout: 2 Bdrm Sleeps: 6 Price/Night: $184 - $999
Property ID# 13554
Snow Creek Village #21 - 3 Bdrm + Den HT - Sun Peaks (TM)
This 3-bedroom home is perfect for a family vacation, with separate rooms for the parents, grandparents, and children. Or if you're taking a trip with your friends, it's great for that too! The open c... More Details
Room Layout: 3 Bdrm + Den Sleeps: 9 Price/Night: $242 - $992
Property ID# 13837
Snow Creek Village #35 - 1 Bdrm - Sun Peaks (TM)
Snow Creek Village 35 is a lovely one-bedroom, two-bathroom condo with a private hot tub and fantastic ski-in/ski-out access. This is a great option either as a romantic couple's getaway, or even for ... More Details
Room Layout: 1 Bdrm Sleeps: 4 Price/Night: $162 - $682
Snow Creek Village #37 - 2 Bdrm HT - Sun Peaks
This 2 bedroom condo is ski-in/ski-out to the main lift area and just a few minutes to the Sun Peaks village core. It backs onto the Valley Trail and green belt, is very private and offers great views... More Details
Room Layout: 2 Bdrm Sleeps: 6 Price/Night: $184 - $999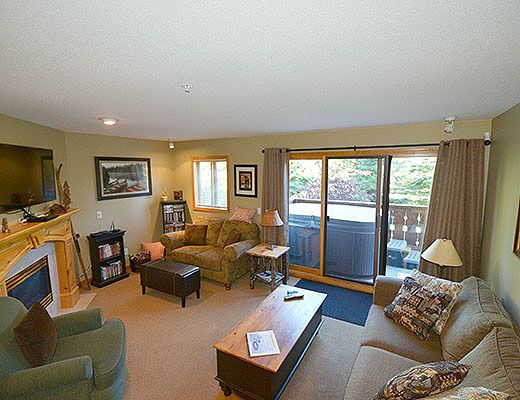 Property ID# 13326
Snow Creek Village #39 - 3 Bdrm HT - Sun Peaks (TM)
This full sized town home on three levels is bright and cheery and features a new hot tub in addition to all the benefits of Snow Creek such as being close to the village and outstanding ski in & ... More Details
Room Layout: 3 Bdrm Sleeps: 11 Price/Night: $242 - $992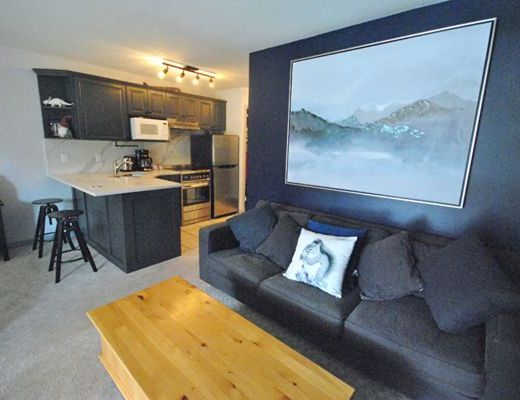 Property ID# 13693
Snow Creek Village #46 - Studio - Sun Peaks (TM)
Snow Creek Village 46 is a modern studio unit lovingly nicknamed "The Shallot" by it's owners. This is the perfect spot for a romantic couple's trip or as a solo traveler, as this property ... More Details
Room Layout: Studio Sleeps: 2 Price/Night: $102 - $417
Property ID# 13160
Snow Creek Village #47 - Studio HT - Sun Peaks (TM)
Snow Creek Village 47 is a cute studio unit on the top floor, with a private hot tub that overlooks a beautiful view of Mt Morrisey and the future Sun Peaks ice skating rink. Outside on your balcony, ... More Details
Room Layout: Studio Sleeps: 4 Price/Night: $152 - $587
Snow Creek Village #48 - 1 Bdrm HT - Sun Peaks
Snow Creek Village offers quality accommodation with all the amenities one would expect, combined with third floor location and the convenience of true ski-in/ski-out. More Details
Room Layout: 1 Bdrm Sleeps: 4 Price/Night: $163 - $760
Property ID# 13942
Snow Creek Village #49 - 1 Bdrm - Sun Peaks (TM)
This cozy one bedroom home in the Snow Creek Village complex is ideal for those who want close access to the village and ideal ski in and out without actually staying in a hotel in the village core. L... More Details
Room Layout: 1 Bdrm Sleeps: 4 Price/Night: $152 - $607
Quick Inquire For Available Properties