Early Bird Promo - Sun Peaks
Promotions valid only with a minimum 3-day booking.
Book your lift tickets or equipment rentals by August 31, 2021 and receive an additional 10% Off
*Offer expires August, 31/2021 - One special per booking
Settlers Crossing - Sun Peaks
Description
Call us about availability 1.888.763.6373
Brand new and very stylish, Settler's Crossing is located on the 16th Fairway of Sun Peaks Golf Course. Enjoy the convenience of this ski-in/ski-out property near the base of Mount Morrissey Chairlift.
Located on the 15 hole of the golf course, this ski in/ski out location offers guests excellent access to the Mt. Morrisey lifts as well as all the amenities Sun Peaks has to offer.
Units
13 Results
Resort/Condos Ski Chalets
Settlers Crossing #11 - 2 Bdrm HT - Sun Peaks
This upper level entry 2 bedroom condo, is ski-in/ski-out to Morrisey and Orient Express Chairlifts. It features a full kitchen, gas fireplace, washer/dryer, 1 full bathroom, TV, complimentary Wireles... More Details
Room Layout: 2 Bdrm Sleeps: 7 Price/Night: $140 - $144
Property ID# 13883
Settlers Crossing #12 - 3 Bdrm - Sun Peaks (TM)
Settler's Crossing 12 is a 3-bedroom, 2-bathroom, corner unit and a great home for a family gathering. The living room, kitchen and dining area are open concept to each other which makes for easy ente... More Details
Room Layout: 2 Bdrm Sleeps: 10 Price/Night: $197 - $877
Property ID# 13157
Settlers Crossing #14 - 2 Bdrm HT - Sun Peaks (TM)
Located on the east side of the Settler's Crossing complex with it's entrance and hot tub deck sheltered by trees, this beautiful home is ideal for a quiet family getaway. You can ski in an out almost... More Details
Room Layout: 2 Bdrm Sleeps: 7 Price/Night: $177 - $742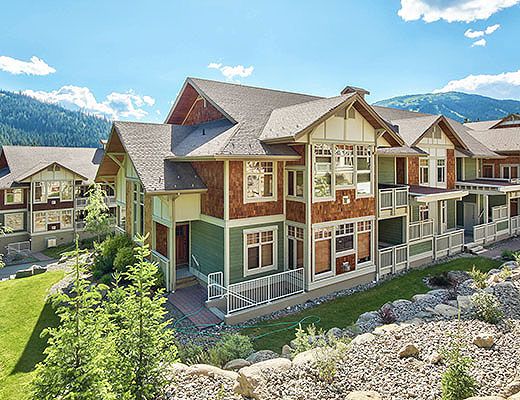 Property ID# 13831
Settlers Crossing #17 - 2 Bdrm HT - Sun Peaks (TM)
Settler's Crossing 17 is a cute two-bedroom, one-bathroom, corner condo at the top of the complex. Bright and warm from all of the sunshine that pours in through the living room windows, you can get e... More Details
Room Layout: 2 Bdrm Sleeps: 5 Price/Night: $177 - $742
Property ID# 13756
Settlers Crossing #18 - 2 Bdrm - Sun Peaks (TM)
Settler's Crossing 18 is a stylish two-bedroom, two-bathroom condo with rich wood furnishings throughout the home giving it a traditional ski cottage vibe with a modern twist. It also features a priva... More Details
Room Layout: 2 Bdrm Sleeps: 7 Price/Night: $177 - $742
Settlers Crossing #42 - 2 Bdrm HT - Sun Peaks
This 2 bedroom condo is a nice corner unit on the second floor. It is adjacent to the golf course and the Morrisey Connector ski run which allows for convenient and easy ski-in/ski-out access to Mt Mo... More Details
Room Layout: 2 Bdrm Sleeps: 4 Price/Night: $179 - $799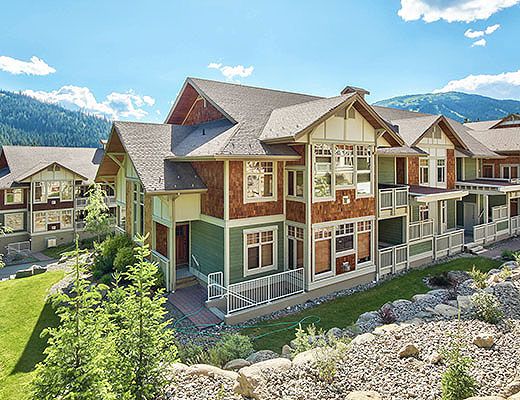 Property ID# 13755
Settlers Crossing #49 - 2 Bdrm HT - Sun Peaks (TM)
This is a sleek and stylish unit, perfect for relaxing in once your day on the hill is done. Enjoy sitting by the cozy fireplace or warming up in the hot tub on your private deck! The dining area seat... More Details
Room Layout: 2 Bdrm Sleeps: 7 Price/Night: $177 - $742
Property ID# 13156
Settlers Crossing #51 - 2 Bdrm HT - Sun Peaks (TM)
Settler's Crossing 51 is a beautiful home ideal for a quiet family getaway. It is a bright and spacious upper end unit, ultra-convenient to downhill, cross country and ski trails. It's just a short wa... More Details
Room Layout: 2 Bdrm Sleeps: 7 Price/Night: $177 - $742
Property ID# 13748
Settlers Crossing #54 - 2 Bdrm HT - Sun Peaks (TM)
This is a bright and inviting home perfect for a smaller group. Located about a 15 minute walk from the village, it's still close but gives enough privacy that you don't have to worry about late night... More Details
Room Layout: 2 Bdrm Sleeps: 6 Price/Night: $87 - $742
Settlers Crossing #61 - 2 Bdrm HT - Sun Peaks
Settler's Crossing 61 is a 2 bedroom, 1 bathroom condo. This welcoming home has beautiful features including granite counter tops, stainless appliances, vaulted ceiling and soaring windows. More Details
Room Layout: 2 Bdrm Sleeps: 6 Price/Night: $158 - $785
Settlers Crossing #62 - 2 Bdrm HT - Sun Peaks
Settlers Crossing is a brand new development located less then 5 minutes walk to the main village. More details... More Details
Room Layout: 2 Bdrm Sleeps: 7 Price/Night: $179 - $799
Property ID# 13758
Settlers Crossing #67 - 2 Bdrm HT - Sun Peaks (TM)
The new furnishings and tasteful decor of this lovely 2 bedroom, 2-bathroom condo will envelop you in luxurious comfort while you relax in front of the fireplace after a day of adventure on the mounta... More Details
Room Layout: 2 Bdrm Sleeps: 6 Price/Night: $177 - $742
Settlers Crossing #70 - 2 Bdrm - Sun Peaks
Settlers Crossing is a brand new development located less then 5 minutes walk to the main village. More Details
Room Layout: 2 Bdrm Sleeps: 6 Price/Night: $179 - $799
Quick Inquire For Available Properties